Breath and meditation journey
Learn how to improve your sleep, turbocharge your immune system and increase mindfulness in everyday life.
Live online Monday to Friday at 6.30 am in two week blocks.
Want to learn how to use your breath to regulate your emotions?
Ready to change your responses to daily stress?
Know that more sleep equals healing?
No special skills are required.
There's no magic or woo woo, just your willingness to show up and practice.
The morning breathing exercises are slowly waking me up to reconnect body and mind.
Breath
Breath is key to our health and wellbeing. The ancient yogis knew this and modern science is proving it.
Many of us breathe through an open mouth. Numerous chronic health issues such as anxiety, insomnia, circulatory disorders and ADHD can be attributed to mouth breathing for some people.
As we age, continued mouth breathing will affect our heart, lungs, brain and muscles. Dementia, heart disease and pulmonary issues are all possible outcomes.
With busy lifestyles, this breath and meditation journey provides you with the opportunity for short, effective practices; all in the comfort of your own home.
Together we cover:
Rectangle breath
Square breath
Three-part breath
Skull shining breath
Humming bee breath
A range of short guided meditations
I really appreciate the way you invite us to go at our own pace and in our own way. This has meant that I am able to practice more easily now.
Who is this course for?
Those experiencing life transitions
Yoga students and teachers wanting to practice with others in the convenience of their own home
Anybody whose energy is pulled in many different directions – kids, family, elderly parents, work
Those who are NOT looking for a magic wand to 'fix' them
Those wanting to establish a morning routine
About your facilitator – Leonie Lockwood
With over 30 years of yoga under her belt and 11+ years of teaching, Leonie knows it's important to keep it real. There's no lightworkers, healers or gurus here. Just practical common sense (as much as you can have at 6.30 am) and a gentle approach to working with minds and bodies.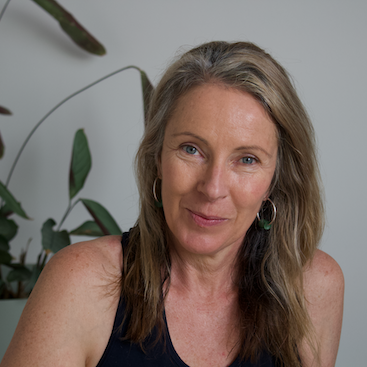 How does it work?
Purchase your pass and a Zoom link and passcode will be sent to you by the booking system for the sessions
Over 10 days (Monday – Friday) we meet online at 6:30 am for 30 minutes at a time. And, together, we practice guided meditations, spot meditations (super short snacks) and breath work practices suitable for all levels of experience
Each day you'll receive a recording of the practice in case you'd like to redo the session or share with a friend
And every Wednesday there's the opportunity to hang out after class for discussion or meet your fellow students if you wish.
What is mindfulness meditation?
It's about noticing where you place your attention at any given moment. Whether that be breath, body, thoughts, emotions. When we are able to take an observational approach as to where our attention goes, it helps us notice patterns of thought, their accompanying physical sensations and emotional responses.
We make space to question the reality of these patterns. Is this thought true? Where is the evidence for this? What is this sensation? How far does it travel? Is it the same every time?
What is exactly is breathwork?
Breath practices have been found in many different traditions such as Buddhism and Yoga. More recently science has researched the efficacy and benefit of practices on perceived stress and general wellbeing.
Working with the breath is a form of meditation.
I haven't meditated before. Will this be alright for me?
Yes. The techniques are introduced slowly and built upon over the course.
What happens if I miss a session?
A recording of each session is delivered to your inbox each day within an hour of the session finishing.
What if I have questions about the techniques?
Each Wednesday we have time after class. Or you can ask in the private Facebook group or email Leonie directly.
Do I need to sit on the floor cross legged?
No. You might like to sit in a chair or even lie down for some of the practices.
Do I need to sit still if my body hurts?
No. It's more difficult to meditate if our body is in discomfort. Adjust yourself, use cushions or blankets for support.
Will these practices cure my insomnia/anxiety/depression?
These practices will help you manage the symptoms of your insomnia, anxiety, depression. You will need to continue to practice these techniques over a period of time longer than the 2-3 weeks of these courses.
Are the practices a bit 'out there' ?
Like many breath and meditation practices, these techniques are drawn both from the yogic tradition and scientific research. If you haven't practiced any yoga, then they may seem unfamiliar at first.
Is each course the same?
Each course will have similar components of breath work. Many of us want answers on magic platters, but the truth is that repetition and more repetition, builds new habits and behaviours.
Is there an advanced course?
Yes. Once you've attended the initial journey at least twice, you'll be invited to attend the advanced sessions, where we build on the skills learnt in the beginners course.
Bonus
Breath and meditation habit tracker.