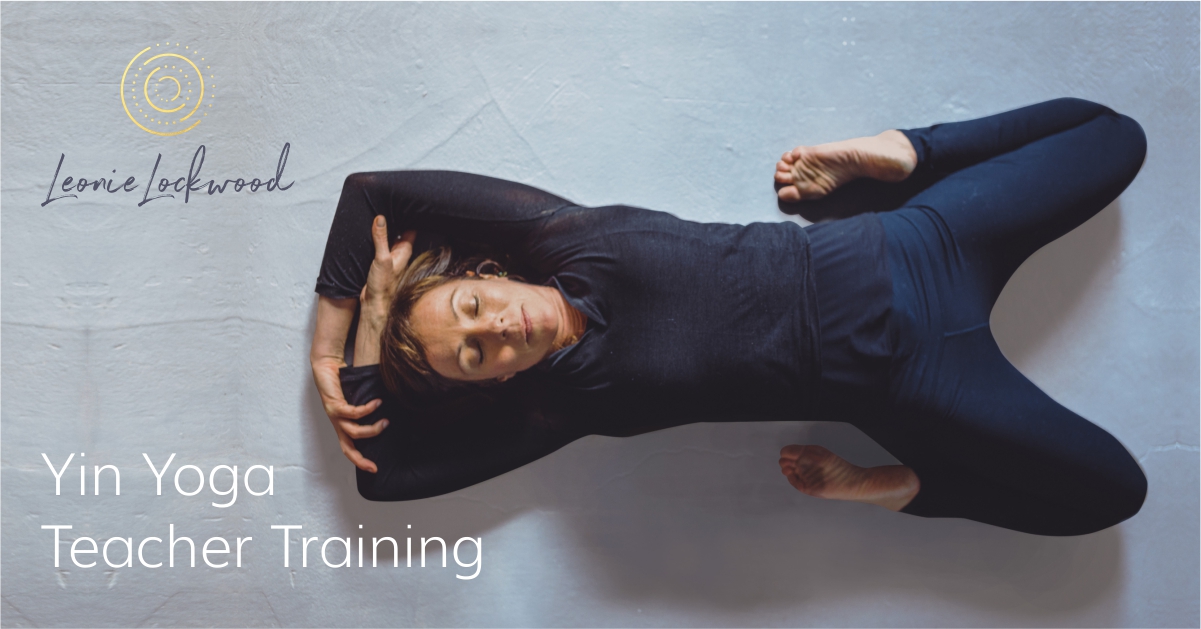 Yoga teacher training – Yin yoga
For open-minded, curious yoga teachers and students
Have you ever wondered if there's a better way to teach yoga, one that doesn't involve putting your students into uncomfortable, unsustainable postures?
Maybe you've considered teacher training, but it's been hard to find like-minded, compassionate and curious people and an inclusive space to learn.
Would you love to arm yourself with new skills, but also build connections, exchange ideas and ask questions in an intimate environment, not be just one of many in a crowded course?
Discover Yin yoga teacher training with Leonie Lockwood
The course includes 44 hours of in person learning, 8 hours livestream sessions, and 8 hours of homework for a 60-hour certification.  In a small, intimate group of no more than 10 students, you'll have every question answered and a chance to build skills and community with peers.
This training is for yoga teachers (part-time, new and mature teachers all welcome). Keen Yin yoga students are also welcomed.
Inclusive and open-minded
Yin yoga is for everybody and for every body type. A flexible mindset is more important than being physically flexible. This is what makes a Yin yoga practice sustainable in the long-term.
Compassionate and curious
By understanding functional anatomy, and the philosophy of Yin yoga, you'll unlock a new way of instructing, that respects the abilities and limitations of your students and keeps them returning to their mat.
Flexible delivery
Mostly in person, with a small component livestream, you get the best of both worlds with this Yin yoga teacher training.
Please note: The livestream components of this course are held at set times and will not be recorded. 100% attendance is required for certification.
'Leonie has a wealth of knowledge and innate understanding of the vastness of Yin yoga. She has given me all the tools I need, as well as an understanding of the complexities and subtleties of this practice on all of its levels – physical, mental, emotional, energetic. I am very grateful to have had this training and learning.'
Michelle Haber
Next course commences: Friday 19th March, 2021
Meet Leonie Lockwood
I began offering Yin yoga training because I felt teachers needed a better understanding of our individual anatomy and how that affects our ability to 'do' poses. I'd seen so many students come to classes, be adjusted by teachers, but unable to maintain the adjusted shape. They wouldn't return to yoga because they thought they were too inflexible. Something was missing.
Qualifications & experience
• 10+ years of yoga teaching experience
• 17+ years of yoga practice
• 550 hours of Yin yoga study with Yin Yoga founder Paul Grilley
• Participation in 1000+ hours of yoga training
• 2000+ hours of class, workshop and training instruction
• National qualifications in remedial massage, clinical Pilates, meditation, and training and assessment.
'Leonie's depth of knowledge on all things Yin is phenomenal. Her direct connection to the founders of Yin adds an authenticity to the course that I am sure is unmatched in Melbourne.'
Karyn Hunter
'Leonie's passion for Yin is inspirational. She has such skill and depth of knowledge – but her practical approach makes Yin so accessible.'
Amy Livingstone
What can I expect from Yin yoga teacher training?
 Yin yoga teacher training with Leonie will help you find your voice. Yin fundamentals Info pack 2021
Through this supportive, encouraging and comprehensive training, you'll also develop confidence in your own body, and in the unique bodies of others, to enhance your teaching. As you nourish and release your body, you may notice less tension, increased energy and a calmer mind.
'Leonie really takes you along this beautiful Yin journey to inspire and take your future yogis on this journey with you. I feel like a capable human again, it has opened up a whole realm of possibilities for me.'
Sophie Brandt
In the 60-hour internationally certified Yin teacher training, you'll learn:
How to intentionally theme, sequence and teach a powerful Yin yoga class.
The tools to be able to offer creative, safe, effective and enjoyable yoga classes.
How and why a functional perspective to anatomy and alignment fosters inclusivity and benefits all students in your class.
To identify skeletal variation in your students, and the confidence to apply this knowledge in modifications, variations, adjustments and propping.
How to effectively cue and use your communication skills to create energy curves within the class.
To identify the 12 main meridian channels of Traditional Chinese Medicine, and where they sit in the body.
How to work with the flow of Qi in the body.
How to weave the concepts of Yin Yang theory, Qi, Five Element Theory and the function of organs into your classes
How to write short meditation scripts to lead your students to states of inner exploration
Yoga teachers, teach internationally with this 60-hour certification. Registered with Yoga Alliance International (USA) and Yoga Australia for continuing education points. 
'This course gave me a whole new experience of the functional approach to yoga. It made me understand how to move energy and target areas as part of a sequence for every body type, not just super flexible young students.'
Gabby McMillan 
'The layout of this course was fantastic. It was crafted and sequenced well so I never felt overwhelmed.'
Jessie Wenborn
Your investment:
$1250 incl GST – Early bird, enrol & pay by 5th March 2021.
$1400 incl GST – Full price, enrol & pay 17th March 2021.
Download course information pack.
'This has been a really wonderful experience, thank you. It has been so empowering to explore more options and confirmed my gut feelings that I was already working with as a teacher. This has nourished that inner feeling.'
Tracey Cherchia
FAQ
How many hours is the course?
The course runs for 60 hours. This includes 46 hours in person learning, 4 x 2 hour livestream sessions, plus 6 hours of homework.
When does the course start & finish?
Dates & times
Fridays
19th & 26th March, 9th &16th April : 7:30 – 9:30 pm – all livestream
Saturdays
20th & 27th March, 10th & 17th April: 10:30 am – 5:30 pm – in person
Sundays
21st & 28th March, 11th & 18th April:  9:30 am – 4:30 pm – in person
Where will the training take place? 
The training will take place at Grace Revolution Yoga, Level 1, 462 Smith Street Collingwood.
Will equipment be supplied?
Due to Covid 19, participants will need to provide all their own equipment – mat, bolster, block, blanket, yoga strap, eye pillow.
Why is this course 60 hours?
Whilst Yin yoga may seem like a simple practice, there are many components that go into teaching an effective Yin yoga class.  To thoroughly cover these topics and give students the time to apply their knowledge in practical teaching sessions, an additional 10 hours has been added.  These additional hours give students the space to workshop and test concepts and practices that comprise a well rounded Yin yoga class.
Why is the majority of the course in person?
The in person training format offers great opportunities for observation of a discussion of Yin concepts and teaching strategies with Leonie and other students. With intake limited to 10 students, your voice will be heard in the group.  Should Covid-19 impact face to face learning, the course will move to livestream on the same dates.
How do we learn about Traditional Chinese Medicine? 
On the training we will be joined by Dr Ilana Sowter – Traditional Chinese Medicine practitioner. Ilana will join us on two occasions throughout the training to help hone your unique teaching voice.
Will the livestream component be recorded?
The 8 hours of livestream material will not be recorded as attendance is essential at all sessions.
Will I receive a certificate?
Yes, you'll receive a certificate once you've completed the course including all assignments, quizzes, practical teaching assessments and exams.
Leonie is a registered continuing education provider (YACEP) with Yoga Alliance International (USA).
The training can also be used for annual continuing education points with Yoga Australia but cannot be used if you are wanting to move to another grading level with Yoga Australia.
How long do I have for assessments?
All assessments must be completed by the designated finishing date of the course.
I'm not a yoga teacher. Can I do this course?
Absolutely. Keen Yin yoga students with a minimum of 12 months' practice will be warmly welcomed into this course. You'll be guided through the theoretical and practical components step by step. Please contact hello@leonielockwood.com.au to confirm your eligibility prior to enrolling.
Will I be a qualified yoga teacher after this course?
No. There are no official regulations worldwide for yoga teacher qualifications.  However, many yoga studios and insurance providers require teachers to have a minimum of 200 hours of yoga teacher training. Check the rules in your country prior to purchase.
Will I have one on one time with the teacher?
In addition to ongoing support and in class discussion throughout the training, each student receives 15 minutes one on one time via Zoom at the end of the course with Leonie to clarify any outstanding questions they may have.
Do you offer payment plans?
Get in touch at hello@leonielockwood.com.au to discuss payment plan options. All payment plans must be completed by course commencement date. Payment plans at early bird rate must be completed by close of early bird.
Payments/Cancellations/Refunds
Be sure to read the comprehensive Terms of Use at the checkout,  prior to purchase.
A non refundable deposit of $250 is required to secure your place in the course.
Yin yoga teacher training modules
Yin Fundamentals
60 hour accredited Yin yoga teacher training
Chakras
15 hour accredited Yin yoga & Chakra training
"Engaging, informative, thorough, revolutionary. Amazing great community atmosphere.
Let me know of Yin Level 2."