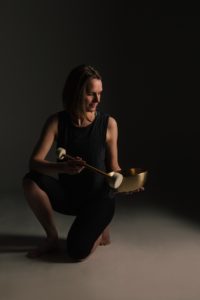 The importance of sound and it's resonance cannot be understated, although it is little understood by most of us. We instinctively know that some music and sounds affect us, but how many of us have ever bathed ourselves in a dedicated sound massage? A few months ago I attended a sound massage event and was struck by how great I felt at the end of it and how that feeling resonated throughout my body for the following week. The healing power of sound cannot be underestimated. I invited Macedon local Melissa Sweeney of Yoga Sound to join me in my upcoming retreat so that participants so could also receive the amazing benefits that a sound massage can evoke. I asked Mel to tell me a little more about sound massage and how it works.
What is the origin of sound massage?
Sound has been used in spiritual practices of many cultures around the world for thousands of years, and is a growing field of study. Sound massage is a relaxation technique where Tibetan bowls are placed on the clothed body and the bowls are tapped with a felt mallet. Sounds are heard through the ears and vibrations are felt directly in the body. I practice a particular technique called the Peter Hess Sound Massage.
Sound meditation can be practiced individually or in a group setting. Specific instruments are played (Tibetan bowls and chimes for example) that allow participants to use sound as an anchor for meditation.
If you could name one defining moment that led you to sound massage, what would that be?
I clearly remember the first time I heard a singing bowl. I had no idea what it was, or how the sound was being made. I was fascinated by it,and took myself off to a sound meditation with Tibetan bowls not long after. At the meditation, I remember how physical the experience was for me, and I wanted to know more about how sound worked.
In your work, how have you seen sound massage assist people?
Sound is known to help quiet the mind, enhance self-awareness, release stagnant energy, and induce deep relaxation.
What are the synergies you see between sound massage and yoga?
I see sound massage and sound meditation as opportunities to restore balance and harmony to the mind/body. They are also great tools for practicing self-compassion and self-inquiry.
What's your favourite way to chill out and find relaxation?
I love to go hiking in the hills around home, or walking along the coast. A bit of sunshine on my skin or cozying up with a good book in front of the fireplace is always a treat.
If you've got any doubts about the magic Mel weaves then here's a recent testimonial from one of her clients that may convince you.
I have recently just received my very first Sound Massage with Melissa. I have been attending her sound meditation classes once a week, which I thoroughly enjoy, and thought I would give a 1:1 Sound Massage a go. I was completely blown away, I loved it. The experience was something so different to anything I have experienced before. I felt the treatment was deeply penetrating as it realigned me. It felt as though the Sound Massage was healing my organs, muscles, systems, down to the very cells of my body. Melissa's gently touch along with her intuitive, grounding and authentic nature takes it to another level of healing. It will definitely be something I do again, thank you Melissa, so grateful! – Rebecca
Mel will be joining me on the upcoming Spring Energy Yoga Retreat 10-12 November 2017 in Kyneton. Further information and bookings can be found here.